How it Works
Crime doesn't pay, but we do!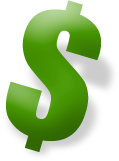 Often when a crime occurs, someone knows something that can help. However, citizens may be reluctant to bring information to the police. CrimeStoppers provides you complete anonymity and a CASH incentive to report what you know.
Cash rewards of up to $1,000 are available for tips resulting in an arrest!
Just call CrimeStoppers hotline at (319) 358-TIPS or submit a tip online. The hotline is available 24/7 and is staffed by a professional coordinator. Each caller is given a code number for the purpose of anonymity.
Submitting an anonymous tip is easy! We do not ask for your name and do not have caller ID. Callers will be issued a code which is used in all subsequent contacts. Tipsters are never asked to identify themselves or provide any personal information. ANONYMITY IS GUARANTEED!